Tecno Elettra automations
Learning from our history, we are looking to your future.
Tecno Elettra is an Integrator-System and placed in the industrial automation market, always looking for electric and electronic advanced solutions.
Best providers electric products are selected, evaluating performances, quality, reliability, and availability, looking for the best price.
The company has always been characterized by a strong innovative imprint.
Best Knowledge and technology is used, implementing a system capable of providing products that satisfy requirements and customers' expectations.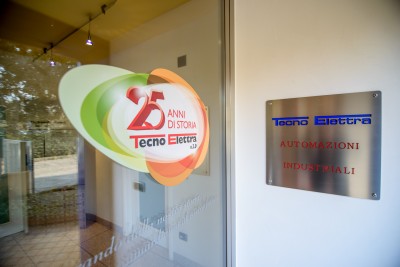 Tecno Elettra is a company where expert, dynamic, always solution oriented personnel is working.
A working reality characterized by the constant objective of preserving flexibility and a high degree of specialization.
The company business is designing, implementing, launching and testing electric systems for many industrial automation sectors and process systems up to the post-sale assistance.
The technical department, based on young technicians and more expert ones, is the place where experience is mixed with continuous innovation, always looking for new technical and advanced solutions for our clients.
We offer every type of solutions regarding the electric schemes, through modern Cad systems.
Our technical programmers develop and implement software, which are the main heart of our programmable control instrument (from the best international brands) inside the electrical systems, such as cpu, touch panel screen, industrial pc, inverter and brushless servo driver.
The manufacturing department is made of high qualified and wiring expert staff.
There is a high level of flexibility due to the variable delivery time and the changes required by customers: this is part of our work together with a high quality and reliability of our products.
This give us the possibility of being in the market with a higher number of products and services to be offered to our clients thanks to the extremely competitive quality-price relationship.
Our main objective for the future is working with higher quality conditions, while ensuring a best company management system.
We don't want to be simple executors or providers.
We want to be next to our clients in developing better technologies, electric and electronic innovative solutions.
We want to be in the centre of the electric industrial automation, being direct partners of our clients and excellent providers of technologies in this growing market.
Tecno Elettra srl and its partner D.G.TALE srl are committed to develop more and more the DIGITIZATION of the machines and industrial plants that they produce through a business model focused on made to serve instead of made to produce. This will allow the organization to significantly increase the quality of machine service by applying the most modern industrial automation technologies and to focus on the development of new applications.
To do this, in 2021, we decided to increase the production area by 500 square meters in order to better test the systems and perform on-site revamping of machinery, drastically speeding up the execution times of work. In the near future, the technical offices will also be expanded by another 300 square meters to provide our software engineers and designers with increasingly avant-garde environments.
Coming together is a beginning, staying together is progress, and working together is success.
(Henry Ford)